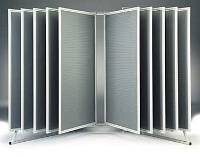 With just a minimal amount of floor space, a Multiplex System 3000 Swinging Panel Display can provide you with hundreds of feet of display area. And it's easy to create a system that's perfectly suited to your needs because the panels, panel supports and accessories are all sold separately. Read "How To Plan Your System 3000" for guidelines on creating your ideal display.

System 3000 freestanding floor models provide easy installation and give you the flexibility to move your display at will. All floor units are crafted with durable steel, have back sections measuring 101" wide, and feature 48 holes for hanging display panels.

Designed for maximum flexibility. All panel supports have 2" on center spacing (pivot holes 2" apart) so you can change the distance between panels to meet your display needs without making any changes to the support base. (See Chart B in "How To Plan Your System 8000".) To use, simply attach the support legs to the back section/brace, adjust leveling glides and add panels.

Choose your preferred frame color to coordinate with your panel selection. Frame options include light gray, white, black, charcoal, and beige. Select the support unit (wall or floor) to match panel size.

Freestanding System 3000 Displays are ideal for retail merchandising, informational exhibits, industrial displays and plans, safety/emergency data, and more. Choose System 3000 and maximize the potential of your exhibit.